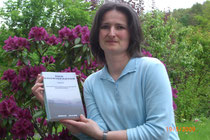 Dörte Ellen

Date of Birth: 02.02.1966
Place of Birth: Siegen
Hometown: Kreuztal
What I like most:
Tai-Chi and sport in general, reading books, cooking and enjoying the meals, watching good films (especially new German love comedy), laughing, making music, singing 
Favourite Books:
Der Adonispastor (of course), Diana Gabaldons Outlander Saga, The First Sex (Elizabeth Gould Davis), Marlow Morgans books about Australia, Keeper and Me, Die mit dem Wind reitet and lots more

Favourite Music:

 Gospels/Spirituals, Barbra Streisand, Celine Dion, Westlife......
Author's Biography
Dörte Ellen, married, 2 daughters, was born in Siegen where she also went to school. After secondary school qualification she passed an apprenticeship to become an industrial clerk. Afterwards she worked as an Export-manager for a metal-rolling mill in her home country.
Until the birth of her first daughter she was gainfully employed as a foreign language secretary. Since 2014 she has been working for the University of Siegen.
Aside of her professional activity Dörte Ellen has worked for more than 20 years with children and teens for the protestant church. That's where she also gained her first experiences as an author in writing scripts for nativity plays, sketches for special church services and a musical in her home community which she performed and directed as well. Dörte Ellen is already working on a second story about the Adonispastor and his parish and further tellings are to follow.